Ombuds Solutions
Ombuds | Conflict Coaching | Mediation
Improving communication to reduce costs & increase productivity
CONTACT US
READ OUR BOOK
We help decisionn-makers and organizations who want to be successful transform aggravating conflicts and negotiations into opportunities for profit before they undermine business or become an expensive lawsuit.
20+ years coaching, consulting, and solving problems to improve communication and deliver practical blueprints for effective change – including large value, multi-party, high-pressure situations requiring strategic vision, trust building, and negotiation expertise.
Informally, confidentially, individually coach boards, partners, executives, managers, teams, individuals, and valuable contributors who are contentious or even toxic. Facilitate behavior changes, strategically develop creative options, improve workplace culture, reduce employment related costs.  All outside of formal grievance processes – avoiding official legal notices, written records, and sticky consequences.
Conflict Damages Productivity & Job Performance
20% of employees feel demotivated by ongoing conflict
9% of employees have seen conflict result in project failure
89% of employees have experienced a workplace conflict that escalated
18% higher customer retention when employees are highly engaged
Would you rather prove you're right
or get what's important?
Wondering if we can really help you and your situation?  We can not only help you and your team avoid conflicts, we can help you look under the surface of those you do have to find wisdom and opportunity.  You can increase the number and scope of available options, craft a solution that satisfies everyone's real interests, and even move beyond your own self-imposed limitations.
Solving the conflicts and easing the stress they produce can become as easy, natural and life-affirming as breathing.  When fairness, equity and respect are important, we're here for you.  You can also read more about Who We Help.
Ombuds Services
Trusted navigators
Now, in a time of accelerated and disruptive social, political, economic, technological and interpersonal change, organizational ombuds serve as trusted navigators, engaged by organizations to inform critical decisions and maximize their potential impact.  Ombuds help survey the terrain, assess risk, monitor trends, address challenges, and advocate for fair process.  Around the world, both full time and contract ombuds proactively solve problems….  Read more about Why An Ombuds.  Also read about How Ombuds Work.
Proactive Mediation
Profit instead of pain
Prevent disputes from developing and stop disputes that surface from spinning out of control.  Whether it'z related to business, succession, probate, custody or something else, the real cost of a lawsuit is measured not only in cash, but emotional pain and the waste of valuable resources for unpredictable outcomes.  Proactive Mediation can give you command of your destiny and result in a fair sollution.  Give yourself a real opportunity — 5 minutes before you file the lawsuit….  Read more.
Conflict Coaching
Facilitating success
Harvest the hidden benefits of conflict.  Conflict management coaching can help you transform the wrinkles in both internal and external relationships so they serve you.  Within almost every conflict and dispute there are hidden opportunities and benefits.  CINERGY Conflict Management Coaching effectively offers you and other clients inspiration, motivation, support, feedback, confidentiality, and a safe context to facilitate successful achievement of your goals….  Read more.
Deal Alchemy
Don't let them kick your tires
Get to the bottom-line quickly in critical negotiations.  Even for great negotiators, advantageous deals may perish on the vine for a variety of reasons or lead to results that are handicapped and fail.  Our Deal Alchemy approach focuses on real-interests (as opposed to apparant interests), enhances relationships, and creates a 'healthy middle' that can prosper.  This approach expands your solution opportunities, and can bbe used as a supplement or alternative to all manner of negotiations….  Read more.
Results can include —
and vary with circumstances
Manage client &
key relationships
more effectively
Resolve communication
blocks for systems to
function efficiently
Reduce compliance costs
and liability exposure
Improve productivity &
employee engagement
Control risks
as others have not
Protect brand
& reputation
Reduce employee
related &
other costs
Help an employee
poisoning the workplace
Liberate hidden values
in a negotiation
Increase management proficiency
Promote favorable
change with positive ROI
Improve communication to
enable difficult conversations
Turn around projects & operations
stalled by conflict
David Pauker is an ombudsperson, coach, mediator, and attorney.  He is a certified CINERGY Conflicts Management Coach, and serves as a coach with Bravely, working with employees, managersa, and executives all over the world. He formerly acted as an ombudsperson for a county Juvenile Welfare Department and turned-around high-value media projects paralyzed with conflicts. He also served on the Board of the California Dispute Resolution Council. He is driven by values, focused on resolving the underlying causes of problems, not just the symptoms. He thinks integrity still counts.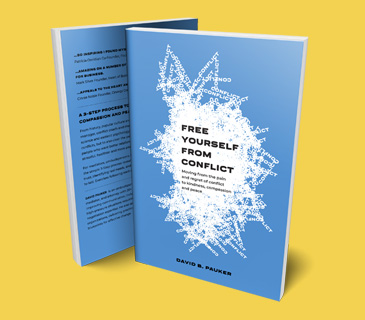 David's book, Free Yourself From Conflict, provides a methodology for defusing your natural reactions to conflict that keep you from acting with your maximum potential effectiveness – so conflict becomes opportunity. This is an approach rooted in science and esoteric psychology for eliminating the pain and regret of conflicts from your mind, heart and sprit. This method more effectively builds trust, melts resistance, and reaches solutions based on everyone's real-needs. It is a process that helps you achieve your goals, including better relationships, less stress, and a healthier, more peaceful life.
Free Yourself From Conflict is available from Amazon.com, bookstores and other retailers.
Whether you want to know more about our services, have a question or want to comment, contact us.  We look forward to beginning a dialogue.  We'll do our best to respond within 24 hours.  Thank you.
Copyright © 2018–2021 David B. Pauker
All rights reserved.